Customer Reviews
Write a Review
Ask a Question
11/11/2020
Mel U.
United States
I recommend this product
Amazing!!!
This product is amazing! It took us from the pictures at the top to the ones at the bottom. My son has very sensitive skin and this product doesn't cause any breakouts or hives. His hair is soft and silky. I've even noticed a difference in how soft his hair feels right after a bath, before I put the product in. I originally just bought this curl creme by itself, because I was worried about my son having a reaction to it. Since he didn't, and the product works so well, I came back to this website today to purchase the whole kit. I decided to leave a review (which I never do) because I am so pleased and excited about how great this product is. Because I am raving about this curl creme, I want it to be clear that I do not know the owners of Young King Hair Care, and I did not receive any free product. I am an honest, genuine, and very satisfied, customer.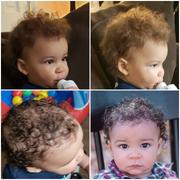 11/10/2020
Alecea B.
United States
I recommend this product
Great
Great product, definitely a daily use product as it doesn't have much shine after a night of sleep.
11/04/2020
cheris m.
United States
Perfect texture
I love the scent and love the texture of this product. My 7 month olds hair is still developing thickness but I noticed a dry patch in his head preventing growth. I frequently massage this product into his hair and I've seen a great improvement. It adds great moisture without being too heavy or too harsh for his sensitive baby skin. Me and my young King love this product!
10/24/2020
Anonymous
United States
10/14/2020
Ann L.
United States
So Far, So Good
The citrus is causing his hair to lighten up (not necessarily a positive or negative, just a heads up for new customers), but the curls are starting to come through. It's a nice upgrade from the fuzzy 'fro. Thank you!